Orange County Peace Camp is a five-day alternative day camp experience which fosters an understanding of peace, justice, and environmental awareness through an anti-bias curriculum appropriate to the needs of the children and youth involved. It is held each year in Irvine Regional Park in early August.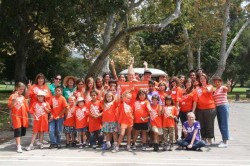 At Peace Camp, campers learn tools to help create a cohesive social community. Safety and respect for self, others, and the environment are explored and practiced through the development of concepts. Skills in conflict management and community building are implemented with an anti-bias focus. Time and awareness of campers' special concerns and unique qualities allow each individual to enhance the community.
The issues which arise from the camp community itself are developed and integrated into the program. The Peace Camp program weaves together activities which promote the knowledge, attitudes, and skills necessary to advocate for a peaceful world, all while having fun and making friends. Our Staff and Youth Leaders bring to the table a variety of backgrounds and experiences, each with a passion for making the world a better place. By learning to use the diverse skills, traits and qualities of each person, we have developed Peace Camp into a life-changing experience for campers, staff, parents, and the community.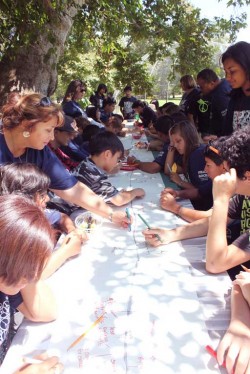 Each year, Peace Camp builds a Service Project in helping our community directly. We have planted trees, provided clothing and support for homeless Motel Children, and cleaned up beaches. Peace Camp is truly an experience unlike any other, one in which campers and staff alike are able to find their own passion for helping others, so that they can each become an activist for change and make the world a better place.
Visit www.ocpeacecamp.com to learn more.